Quick Links
Click the hyperlinks to view the websites/ videos:
CAS Target Date: Dec 31, 2017
IUPAT
CERTIFIED
COATING
APPLICATORS
Statement by IUPAT General President Kenneth Rigmaiden on OSHA's Final Rule Regulating Workers' Exposure to Silica
Hanover, MD – The International Union of Painters and Allied Trades is pleased to share that OSHA has issued the final rule governing the exposure of workers to the deadly dust known as crystalline silica.
President Rigmaiden's statement on the impact of the new ruling.
Learning Center
Introduction to Trim-Tex Drywall Solutions Course Now Available!
The FTI introduces a new course for the Drywall Finisher. The FTI has partnered with Trim-Tex, a cutting-edge company specializing in vinyl drywall accessory products. This preparatory course will introduce members to innovative design solutions, industry leading products and implementation of proper installation techniques. To access, enroll in DRY 3601 Trim-Tex Drywall Products.
---
Coming Soon to the FTI LMS
Online and Classroom courses in:
Safety Trained Supervisor Construction Certification
School Guard Glass - Installation
---
Printable Course Calendar
Are you interested in a attending training at FTI International (Hanover, MD)? Your Director of Training (DOT) needs to email to FTIInternational@iupat.org and provide the course name along with your full name, preferred training date, member id, and email address. For quick processing, the email subject should be Course Registration. Important reminders:
Open course enrollment will close due to high registrations or within

3-4 weeks prior to beginning date.

Final confirmation emails are sent 3-4 weeks before the training.

Please coordinate with your ATR for "By Invitation" courses.
***Course Updates***
FTI 1126C NCCCO Crane Signal Person 08/29-09/02 is now FULL.
FTI 1130C NCCCO Rigger Level I Program 09/19-09/23 is still OPEN.
Click the graphic to view FTI International's printable training calendar (updated as of 08-23-16).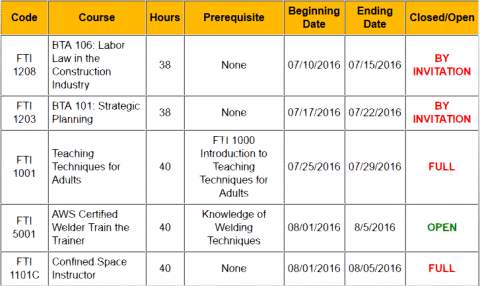 FTI Learning Management System (LMS)
The Finishing Trades Institute (FTI) Learning Management System (LMS) website is an online learning portal designed in partnership with the K-Learning group (a Kelly Company), a leading provider of online training systems for unions and associations. The FTI LMS is a secure web-based software program for the administration, documentation, tracking, and reporting of training programs, classroom and online events, e-learning programs, and training content. It is an accessible way of providing apprenticeship training course materials to FTI LMS users.
FTI Online Libraries
The FTI Curriculum and Instruction Department, in partnership with the K-Learning group, uploaded 50 new online courses with some Spanish versions. The new lessons are interactive, contain assessments, and have reporting capabilities. They are found in the Core curriculum under 1.0 Introduction to the Union and Finishing Trades and 2.0 Health and Safety categories.
You can review additional courses for your training centers' need and interest by clicking the K-Learning Center catalog found below. Let us know which courses you want to add to our LMS.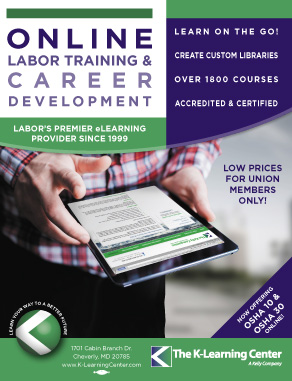 JPCL - SSPC Webinar Education Series


Sponsored by CLEMCO Industries Corp.


Surface Preparation by Wet Abrasive Blast Cleaning


Tuesday, July 19, 2016 * 11:00AM - 12:00PM EASTERN


This webinar will cover industry standards, procedures, equipment, and materials used in a variety of air/water/abrasive, water/abrasive, and water-pressurized abrasive blast cleaning systems. Participants will be eligible to receive continuing education credit from SSPC. The webinar will be presented by Thomas E. Enger, Clemco Industries Corp.





For more information and registration details, go to PaintSquare.

________________________________________________________________
4,679 workers died on the job in 2014
"No one should have to sacrifice their life for their livelihood, because a nation built on the dignity of work must provide safe working conditions for its people."
Secretary of Labor Thomas E. Perez
USDOL, OSHA and federal agencies announce weeklong National Safety Stand-Down initiative
Will you participate?
National Safety Stand-Down highlights the importance of preventing falls - the leading cause of worker death and serious injury in the construction industry.
May 2 - 6, 2016 marks the 3rd annual National Safety Stand-Down
The purpose of the National Fall Prevention Stand-Down is to raise awareness of preventing fall hazards in construction. Fatalities caused by falls from elevation continue to be a leading cause of death for construction workers, accounting for 337 of the 874 construction fatalities recorded in 2014 (BLS preliminary data). Those deaths were preventable. Fall prevention safety standards were among the top 10 most frequently cited OSHA standards, during fiscal year 2014.
Click here to learn more about planning and conducting a Safety Stand-Down
Stay Connected
Click the logos to view FTI's social media links.
Technical FAQs
Unable to log in? If you are receiving an invalid username and password, please email FTIInternational@iupat.org. To verify your account, provide your full name, Member ID (if available), LU, DC, and birthday.
Having computer problems? Click the Technical FAQs to review some easy fixes.
Taking Click Safety courses using a Mobile Device or Tablet? Learn more about the technical requirements to ensure the best experience.
eLearning Updates
OSHA 10 and 30 are now available online. You have the option to take these courses anywhere at your own pace. After successfully passing the course, an OSHA card will be sent to your mailing address within 4-8 weeks.
OSHA 10 and 30 have similar requirements:
The online training should be completed within 6 months from the date when you start the course.

The minimum passing score is 70%.

The student has 3 chances to pass the online quizzes.

The student will be forced to take the quizzes in the order presented in the online training.

For OSHA 10, the student will not be allowed to log into the training for more than 7.5 hours per day; plan on a minimum of 2 days to complete the training.
To have access to these eLearning courses, your Director of Training needs to complete an Account form (see above) and send the request to the FTIInternational@iupat.org. Click here for technical requirements if using a mobile device or tablet to take the OSHA 10 or 30.

Updated: IUPAT 101
Click the picture below to play the lesson and learn about the IUPAT structure, funds, departments, and programs.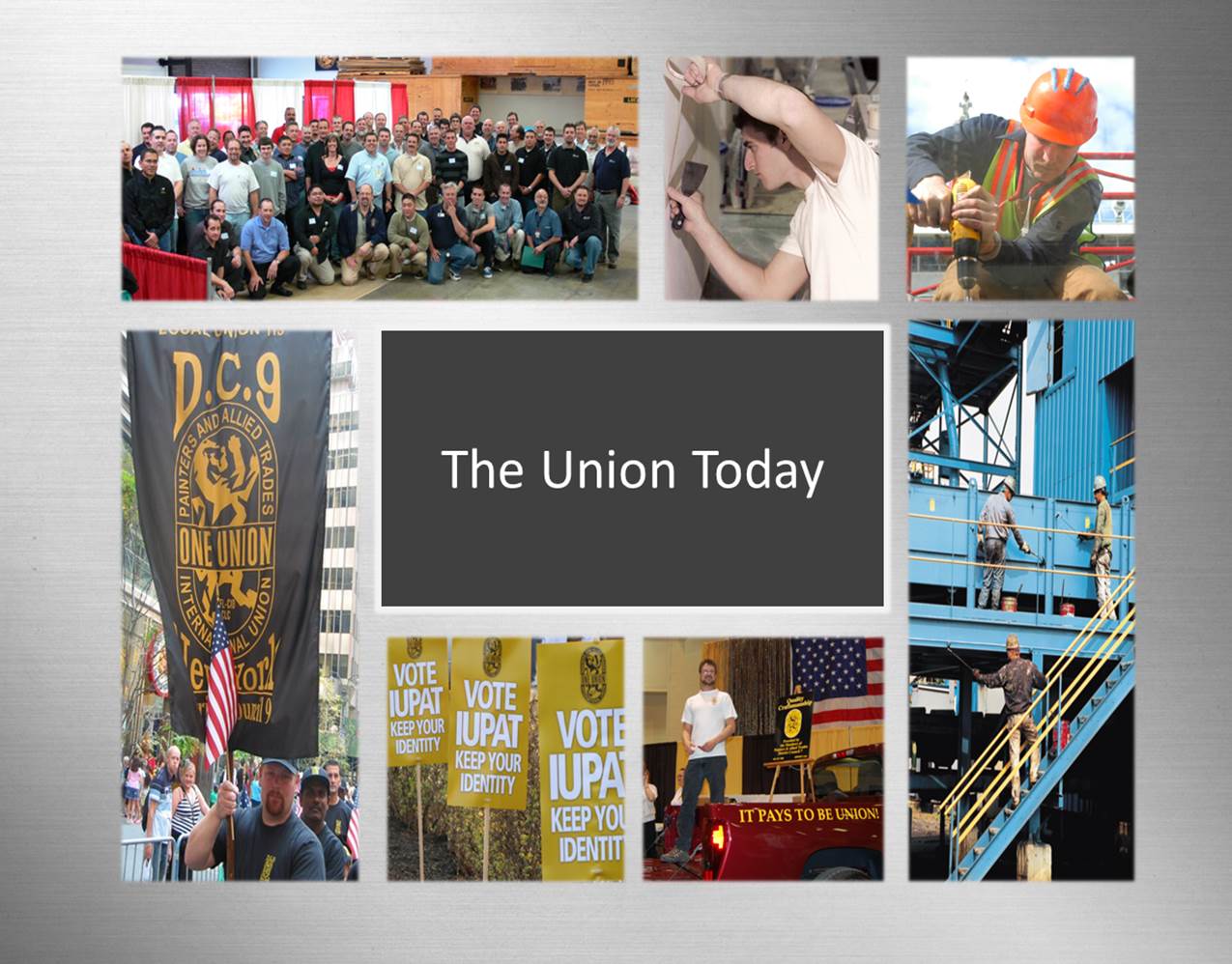 Sample DC 7 Orientation eLearning
Sample DC51 Orientation eLearning
LMS User - Tip of the Day
Remember to click the tabs on your My Account page under Learning Activities to access ENROLLED, OVERDUE, COMPLETED, or EXPIRED courses. Once a course has been completed, it is automatically moved to the COMPLETED tab. You can access the course repeatedly from this tab.
LMS System Timeout
(Security Note)
The LMS has a 10-minute timeout period. If you do not refresh or request a new page within the 10-minute period, the session ends and you will be required to log back in.