Quick Links
Click the hyperlinks to view the websites/ videos:
Learning Center

Trade Show Ground Rigging Now Available!
The FTI introduces a new course for the Tradeshow Worker. With help from District Council 36, the revamped and newly uploaded course will provide ground riggers with the necessary skills and safe practices to perform this integral role. To access this interactive lesson, enroll in course TDS 9009 Ground Rigging.
OSHA Introduces NEW Trainer and Student Cards Intended to Reduce Fraud and Improve Efficiency
Beginning March 1st, the DOL's OSHA Training Institute (OTI) Education Centers across the country will participate in the new 10-and 30-hour completion card program.
Individualized for trainers and students in construction, general industry, maritime, and disaster site workers, completion cards will be made of a more durable card stock – like a credit card – with authorizing logos, a watermark when copied, and a QR code that leads to a website allowing employers and workers to verify the authenticity of the card and decreasing potential delays of work on the job site.
Fees for the cards from the OTI Education Centers will increase from $5.00 to $8.00 per card as of March 1, 2016.

For further information, click here.
---
Coming Soon to the FTI LMS
Online and Classroom courses in:
Safety Trained Supervisor Construction Certification
School Guard Glass - Installation
---
Webinar from Durability + Design
Specifying Architectural Coatings Series: Water Vapor Permeance of Coatings: What Is It?
Wednesday, February 24, 2016; 11:00 AM - 12:00 PM Eastern
Cost: FREE
LMS System Timeout
(Security Note)
The LMS has a 10-minute timeout period. If you do not refresh or request a new page within the 10-minute period, the session ends and you will be required to log back in.
Printable Course Calendar
Are you interested in a attending training at FTI International (Hanover, MD)? Your Director of Training (DOT) needs to email to FTIInternational@iupat.org and provide the course name along with your full name, preferred training date, member id, and email address. For quick processing, the email subject should be Course Registration. Important reminders:
Closed enrollments are by invitation only.

Open course enrollments will close two (2) weeks prior to beginning date.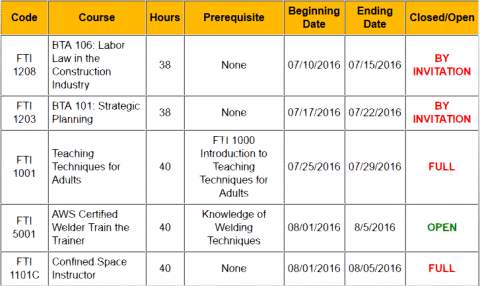 FTI Learning Management System (LMS)
The Finishing Trades Institute (FTI) Learning Management System (LMS) website is an online learning portal designed in partnership with the K-Learning group (a Kelly Company), a leading provider of online training systems for unions and associations. The FTI LMS is a secure web-based software program for the administration, documentation, tracking, and reporting of training programs, classroom and online events, e-learning programs, and training content. It is an accessible way of providing apprenticeship training course materials to FTI LMS users.
FTI Online Libraries
The FTI Curriculum and Instruction Department, in partnership with the K-Learning group, uploaded 50 new online courses with some Spanish versions. The new lessons are interactive, contain assessments, and have reporting capabilities. They are found in the Core curriculum under 1.0 Introduction to the Union and Finishing Trades and 2.0 Health and Safety categories.
You can review additional courses for your training centers' need and interest by clicking the K-Learning Center catalog found below. Let us know which courses you want to add to our LMS.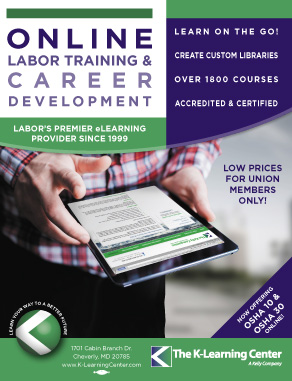 In the News

Architects Approve Resiliency Order

D+D News, February 9, 2016
U.S. architects are applauding a recent move by President Barack Obama to improve the nation's resilience to earthquakes.The President signed an executive order establishing a Federal Earthquake Risk Management Standard on Feb. 2. The American Institute of Architects (AIA) announced its support of the measure Friday (Feb. 5).
Under the executive order, federal buildings are to be designed in accordance with earthquake-resistant design provisions.
Earthquake-Resistant Design

The order requires that federal agencies responsible for new buildings or alterations to existing buildings ensure that the building is designed, constructed, or altered in accordance with earthquake-resistant design provisions in nationally recognized building codes, such as the International Building Code or the International Residential Building Code, both promulgated by the International Code Council.
Davidson said AIA "advocates for the implementation of comprehensive and contemporary building codes—which reflect the best science at the time of development about earthquake hazard risk."
"We applaud the Administration's commitment to ensuring all federal buildings meet or exceed these building codes and look forward to continuing our collaboration so that we can increase the nation's resilience to disasters of all kinds," he added.
The AIA was founded in 1857 and has over 300 state and local chapters.
To view the entire article, click PaintSquare link.
Stay Connected
Click the logos to view FTI's social media links.
Technical FAQs
Unable to log in? If you are receiving an invalid username and password, please email FTIInternational@iupat.org. To verify your account, provide your full name, Member ID (if available), LU, DC, and birthday.
Having computer problems? Click the Technical FAQs to review some easy fixes.
New LMS Account Request
If you need an LMS account or want access to eLearning courses (e.g. OSHA 10 and 30), your Director of Training (DOT) needs to complete an account form and send the request to FTIInternational@iupat.org.
eLearning Updates
OSHA 10 and 30 are now available online. You have the option to take these courses anywhere at your own pace. After successfully passing the course, an OSHA card will be sent to your mailing address within 4-8 weeks.
OSHA 10 and 30 have similar requirements:
The online training should be completed within 6 months from the date when you start the course.

The minimum passing score is 70%.

The student has 3 chances to pass the online quizzes.

The student will be forced to take the quizzes in the order presented in the online training.

For OSHA 10, the student will not be allowed to log into the training for more than 7.5 hours per day; plan on a minimum of 2 days to complete the training.
To have access to these eLearning courses, your Director of Training needs to complete an Account form (see above) and send the request to the FTIInternational@iupat.org.
Updated: IUPAT 101
Click the picture below to play the lesson and learn about the IUPAT structure, funds, departments, and programs.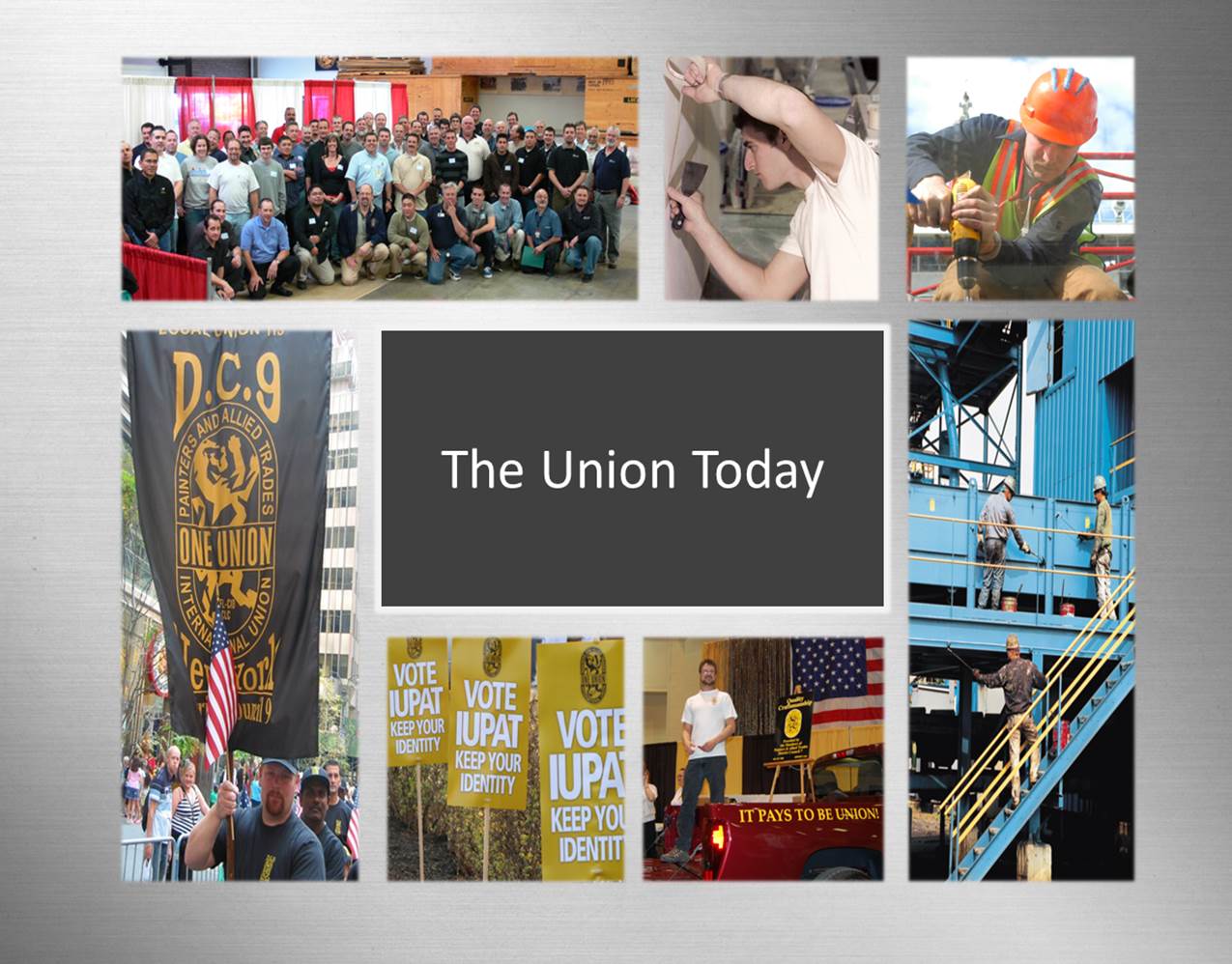 Sample DC 7 Orientation eLearning
Sample DC51 Orientation eLearning
LMS User - Tip of the Day
Remember to click the tabs on your My Account page under Learning Activities to access ENROLLED, OVERDUE, COMPLETED, or EXPIRED courses. Once a course has been completed, it is automatically moved to the COMPLETED tab. You can access the course repeatedly from this tab.