Quick Links
Click the hyperlinks to view the websites and videos: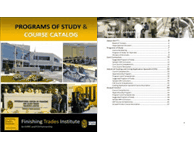 Issues and Articles

Safety in COATINGS WORK



PaintSquare's Journal of Protective Coatings presents the
JPCL Resource Guide - March 2015
What do these companies have to offer and say about safe practices, tools, rules and products that, when used properly, can help to keep workers safe, and reduce lost operations?
JCPL has released a special AD section that highlights products designed to keep workers safe and operations running smoothly each and every day.

Keep up with the latest products to protect your team against the dangers of protective and marine coatings work. Download "Safety in Work Coatings" publication found in the course materials section of these courses: PNT 7700, CAS 2300, HVT 6301 and COR.
LMS SystemTimeout (Security Note)
The LMS has a 10-minute timeout period. If you do not refresh or request a new page within the 10-minute period, the session ends and you will be required to log back in.
Video Updates
FTI Learning Management System (LMS)
The Finishing Trades Institute (FTI) Learning Management System (LMS) website is an online learning portal designed in partnership with the K-Learning Group (a Kelly Company), a leading provider of online training systems for unions and associations. The FTI LMS is a secure web-based software program for the administration, documentation, tracking, and reporting of training programs, classroom and online events, e-learning programs, and training content. It is an accessible way of providing apprenticeship training course materials to FTI LMS users.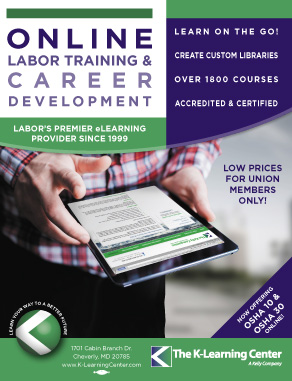 Click the image above to view an online catalog.
We have over 1800 courses that can be added to our LMS, click on the catalog above to browse the courses available and let us know which courses you would like to add to our LMS.
In the News

OSHA Announces a Final Rule on CONFINED SPACES IN CONSTRUCTIION
The Rule takes effect August 3, 2015

(Tuesday, May 5, 2015 PaintSquare News)
Coordination of contractors, continuous monitoring and more rigorous inspection are among the requirements of the first new federal rule for confined-space work in construction.
'This Rule Will Save Lives'
Chief among the new provisions is a requirement that multiple employers share safety information and continuously monitor hazards.
That provision is designed to prevent, for example, one subcontractor from running a generator near the entrance of a confined space where another trade is working, inadvertently causing a building of carbon monoxide in the space.
The new rule has five key differences from the general-industry rule and clarifies several existing requirements.
In general, the rule requires employers to determine what kinds of spaces their workers are in, what hazards could be there, how those hazards should be made safe, what training workers should receive, and how to rescue those workers if anything goes wrong.
OSHA issued a confined-space standard in 1993, but exempted construction. A shipyard directive was released in 2011. The construction rule has been 35 years in the making.
(Photo courtesy of OSHA)
Stay Connected
Click the logos to view FTI's social media links.
eLearning Updates
OSHA 10-Hour training for the construction industry requires instruction on the Focus Four Hazards, plus six elective courses. The Construction Focus Four include Fall Hazards, Caught In or Between Hazards, Struck By Hazards, and Electrocution Hazards. Special emphasis will be placed on areas most hazardous, as indicated in OSHA standards. Upon successful completion of the course, students will receive an OSHA 10-Hour Construction Industry Outreach DOL course completion card.
COR 1100 - Introduction to Health and Safety/OSHA 10 (OSHA 10-Hour Construction) includes the following modules:
Module 01 - Introduction (Credit Hours: 2.00)

Module 02 - Electrical Safety (Credit Hours: 1.50)

Module 3A - Fall Protection (Credit Hours: 1.25)

Module 3B - Struck-By & Caught-Between Accidents (Credit Hours: 1.25)

Module 04 - PPE (Credit Hours: 1.00)

Module 05 - Scaffolds (Credit Hours: 1.00)

Module 06 - Cranes (Credit Hours: 1.00)

Module 07 - Hand & Power Tools (Credit Hours: 0.50)

Module 08 - Excavations (Credit Hours: 0.50)

Module 09 - Materials Storage (Credit Hours: 1.00)

Module 10 - Demolition (Credit Hours: 1.00)

Module 11 - Hazards in Construction (Credit Hours: 0.50)

Module 12 - Final Exam & Student Evaluation (Credit Hours: 0.50)
Note: Contact your Director of Training to have access to the online training. OSHA regulations state that a student cannot spend longer than 7.5 hours in an OSHA 10 course per training day. Please allocate a minimum of two (2) calendar days to complete this training. _____________________________________
LMS Account Holders - User TIP
Remeber to click on the tabs on My Account page under Leraning Activities to access COMPELTED courses, Overdue courses or Expired courses. Once a course has been completed, it is automatically moved to the COMPLETED tab. You can access the course repeatedly from this tab.
Updated: IUPAT 101
Click the picture below to play the lesson and learn about the IUPAT structure, funds, departments, and programs.